Just thought I'd mention for those that are wondering what the hell we are doing. Well, we're holed up in my studio every day, watching porn and drinking!
Well, maybe a little bit of that - but mostly we're working the song ideas and tonight we're really noticing the CD is finally taking form.
We've written a ton of ideas and some are in various forms of completion, but tonight we sat down and made note of all the songs we feel have a serious chance of making the grade and it turned out to be around 15 tunes (I know I mentioned 18 a few days ago on my Facebook page, but this is the absolute latest). I already dropped a few of my ideas that I thought weren't up to the grade, and we eliminated some from the list for the present that are in too much of an incomplete form.
One thing that is for certain about the tracks we have currently - it's got attitude! Of course it's still early, but I think there will be no confusion about our direction with this CD. Straight ahead honest Y&T rock.
Still lots of work ahead to put all the final touches on the songs we have, plus a few more need to be written, but we're almost there now as far as the vision and the main part of the writing is concerned.
Other than these 3 shows next weekend, we'll be back in the studio every day until this CD is finished and released June 1 - if we don't screw up and miss the deadline.
Update March 3rd
Sorry I haven't been so good at updating everyone, but there's a lot going on behind the scenes at Y&T Land. Can't tell you everything right now but have lots of bits and pieces to reveal.
First off. things are moving along at the pace we expected - and that's a good thing.
All the basic tracks (drums, bass, and rhythm guitars) are in place with just a few more days of guitar bits to be recorded before we move on to vocals and guitar solos. We have recorded 17 songs and will finish completely about 14 or 15, in order to release around 12 or so for the CD. Won't know for sure until it's down to the finish.
And speaking of finish - it will be right down to the wire, but I'm expecting us to pull it off to get it done in time for our promised release date. There WILL be some injuries along the way to get it done in time - bodies, souls, egos, ears, fingers, throats, and sleep will be abused profusely in the next 6 weeks.
As of late last week, the front cover art is now finished and it looks great! Of course we knew it would because it's been done by an old friend to Y&T covers - John Taylor Dismukes. He has done his magic again, with lots of direction from Phil. He wanted to be part of this historic event - the first new Y&T CD of original material in almost 15 years.
I'm sure many of you are wondering what direction the tunes have taken. Well the best way I can describe it is that it's straight ahead Y&T rock and roll. No wild pitches, but maybe a few curve balls to keep it interesting. Definitely a few new vibes coming from the hands and mouths of us boys. It will likely be very difficult to pick what gets left off because they all have something cool to offer (at least we think so at this point in the recording process). Only time will tell how this all turns out, but I can say with complete confidence that this is not gonna suck!
Much more to come as we get closer to the finish line. Stay tuned!
Cheers,
-Dave
Well, let me try to answer that question. Dave Jill, my wife and I and a few other friends got together yesterday on the one day Dave got a break then he's back to work until the CD's completed. Probably without anytime off between now and then.
Anyway, Dave let us hear some of the songs because my guitars, the one I built for him and the AshCourt, are being used in much of the CD. I really don't have any adjectives to describe what everyone going to hear because there just aren't any words to describe it. Except maybe awesome to the 1000th degree. I had chills at how unbelievable the writing, arrangement, riffs, Phil's bass, Mike's drumming and John's playing was. I had a smile on my face as big as the moon in quarter phase. Mikes drumming is probably the best I've heard from anyone in a long time. and Dave's vocals, .....well need I say anything about that. All mostly in line with classic Y&T fashion but with a few astonishing surprises. I know there's nothing like classic Y&T but in my opinion this is probably better than anything they've ever done.
Well I hope I got everyone one's excitement up because you guy's and everyone else in the world are in for a special treat............I wish there was a better word than incredible!!
Studio Pics
Just thought the gear-head folks might appreciate these pix I took of the new CD sessions. Gives you all a bit of a voyeuristic glimpse into our world the last 3 weeks, and the coming 3.
Cheers,
-Dave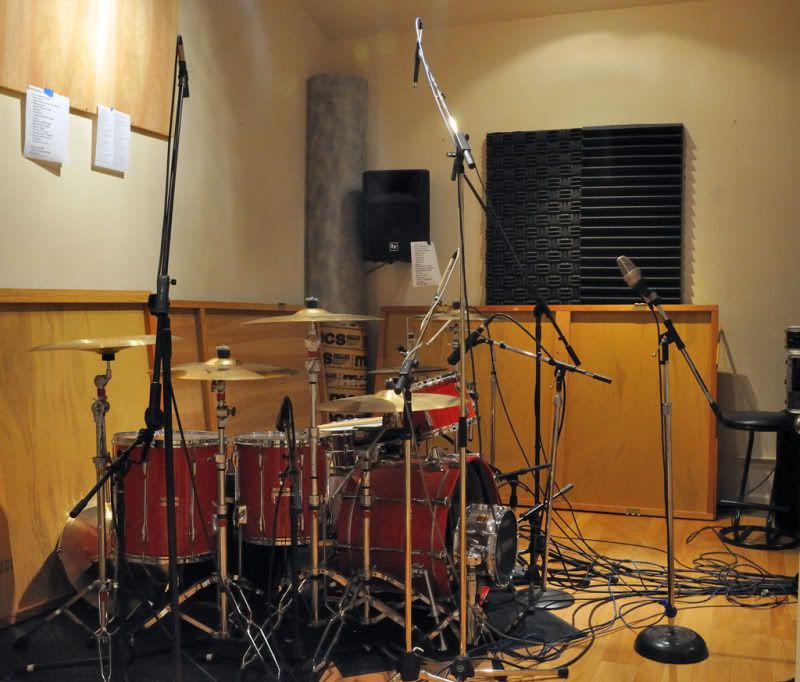 The mics on Mike's Space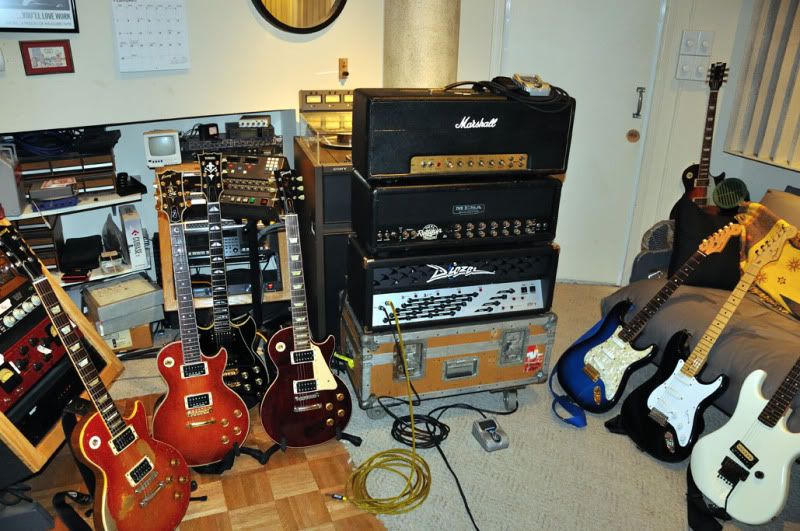 Dave's guitar corner.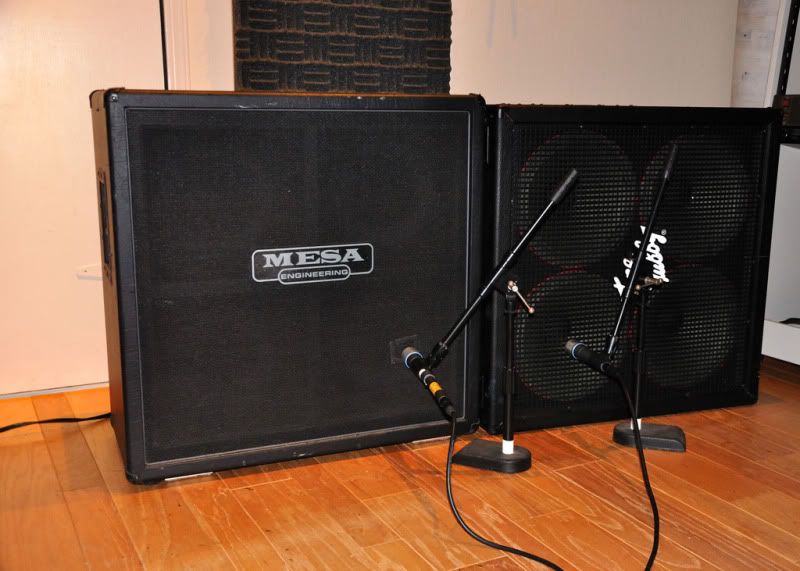 John and Dave's guitar cabs cranking out the decibels.